Take-Em Outfitters Ltd - Testimonials
Here's what a few of our customers have had to say about us.
Have a testimonial of your own to share?
Send a Testimonial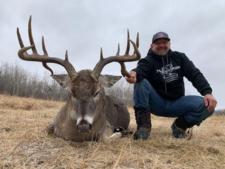 Daniel Hall Jr. AKA-
November 2019 - Clinton, NC
On the morning of November 25, 2019, I never knew I would come face to face with a deer called "Pegleg", a deer they thought to be 9-10 years old. With alot of help from my guide, Clay, and J-dog, I shot a double drop tine buck, the biggest buck of my life!! Also, the lodge was top notch and I probably gained 10 lbs from all the food Crystal cooked. Very well organized outfitter. Really enjoyed my hunt and would love to go back! Thanks again for a good time and the hunt of a lifetime!!
Keith Beasley
Fall 2016/2017 - Peterborough, On
Whitetail hunted fall 2016 and 2017. Each fall had two of the largest whitetails I have seen in my life walk by my stand. Clay told me I was in the big woods waiting on monsters and I seen two anyone would dream of. Incredible. Would go back in a heart beat. Watched deer daily, some days 20 plus. Truly a place a world record could walk by and no one would have known it was there. Food, accommodations first class. combine all that with Clay and Crystal and their operation 'FIRST CLASS' hands down one of the best outfits iv ever been to.. TAKE-EM!
Ryan
Spring of 2018 - TEXAS
One of the best hunting experience I've been on yet. Hunting with Clay, Kylie And Kelly and watching the work these guys put in to make it an unbelievable hunting experience is second to none! This was my first black bear hunt in Alberta but will not be my last. I harvested a big 7'6" black bear and a beautiful 6'+ cinnamon bear last spring. I've already booked a trip in 2019 with Take-Em Outfitters to work on another color phase bear. Not to forget Crystal's cooking ability was top notch, making sure everyone was feed breakfast, lunch and dinner (even when we would make it back at midnight) it was hot and delicious. I would like to thank everyone again for a unbelievable hunting experience. See you next May
Larry Drahota M.D
september 12th 2018 - 4708 west 114th terrace leawood kansas 66211
WOW!!!! Just returned from first time combo hunt with Clay and Crystal. Never hunted more than two hours... It goes fast... Lodge was clean comfortable well organized... This is North Americas version of Argentina. Hunt a new X every day. Scouted with them in afternoons, helped build willow blinds that were invisible... a waterfowlers dream hunt. Come as a customer leave as a friend mentality. THey have nearly 100% return clients so you'll have to be flexible to get in..HOPE YOU DO
Robby Tilley
Spring 2018 - Cold lake ab
My best bear hunt ever.. I seen lots of bear and killed a GIANT Red Bear !!! Clay and his TEAM really does there homework. Can't thank him Take-Em Outfitters enough. They really puts out the bait to draw them in. 5 stars*****
Daniel Dietrich, Texas
After years of hunting bear in Alberta, Canada with Clay at Take-Em Outfitters he convinced me to come up and go winter Wolf hunting with him. My first thought was, this is going to be cold! Clay as usual had done his homework and was able to put me in position to take a giant Black Silver Tip Canadian Timber Wolf. It was an absolute thrill of a lifetime.
John D, West Monroe, LA
If an Ultimate Waterfowling Experience is on your Bucket List, then you must consider Take-Em Outfitters of Cold Lake, Alberta, Canada as your destination. After hunting with Clay every year since 2010, it has become my destination of choice, in fact, I call it my Fall Migration. I have watched Take-Em Outfitters grow over each successive year and witnessed the expanding list of satisfied returning customers. Clay's Family has become an extension of My Family and the Lodge is like my Second Home, but most of all the Waterfowling is Superb!
Woody, Arkansas
Been hunting in Canada for 10 years, Clays operations is the best we have ever had!
Booked again next year for six day hunt!!
Shawn
Just wanted to say thanks for the great time. Everything about it was better than expected! Camp, food, guides, bait and bears. We all had a trip to remember and look forward to coming back. It was awesome that Clay spent so much time with Kaden trying to get him the best bears and best shot possible. If anyone is looking for a first rate bear outfitter this is the place to go. Fun guys great food and awesome bears!
Peter, Louisiana
Best hunting experience ever. Duck and goose hunting in the snow was awesome.
Clay and Crystal were very accommodating with good food and a nice lodge.
This was my first hunt in Canada but won't be the last we are already booked for next year.
Sabrina
Thank you Clayton, Crystal, and family for your hospitality and a great first bear hunt! Good food, good atmosphere, good times = great memories for my Dad and I. We feel like we made new friends in Canada from this trip. Hoping we can come do it again soon and bag one of those browns and a tank for Pop! I'm proud of my first black bear and my experience taking him! If your looking for a 1st class outfitter you need to consider booking your trip Take-em Outfitters.
Daniel Dietrich, Texas
Back in 2011 I was deer hunting with Take-Em Outfitters and we were talking about a bear hunting video that Clay had made, he said, "if I wanted to see a lot of bears and have a hunt of a lifetime I should come back and hunt bears with him." That was 8 years ago and have been back every year since, have taken many great bears, have experienced true in your face bear hunting. Clay, Crystal and the family have always gone the extra mile to make our all-around hunting experience extraordinary. They have accommodated myself, my wife, son-n-law, daughter and even my 78 year old mother-n-law over the years. All of us have taken numerous bears and coyotes over the years. Cannot wait to be back knee deep in the muskeg next year.
Luke, North Dakota
Clay and Crystal Take-Em Outfitters,
You are first class! Your effort, knowledge, dedication and world class hunting gave me a lifetime experience on harvesting a Timber Wolf! I highly recommend anyone looking for a great hunting experience to get in contact with Take-Em Outfitters. You'll be treated by professional people, to top notch lodging and accommodations. Crystal, you get a special mention for the great breakfasts (when you tag out early), lunch and dinners everyday. I am already making plans to visit again very soon.
Send us a Testimonial
To our past clients: We appreciate your comments and if you would, fill out the form with comments and a photo about your experience at Take-Em Outfitters Ltd. Fields marked with * are required. Please enter the Name field how you want your name to read on our website (Examples: John Doe, J. Doe, John D., John Doe Corporation).